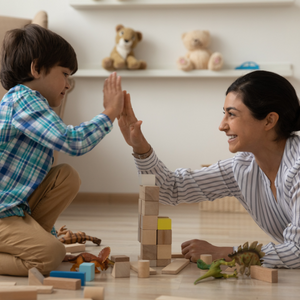 As a nanny, one of the most important things I have learned is how to calm children down when things get too hectic. Using mindful activities can be an effective way to do this. Mindful activities can help children become aware of and regulate their emotions, leading to a sense of calm and relaxing their mind and body. Here are five available activities that can be used by nannies to calm children down:
1. Breathing exercises: Breathing exercises are a great way to help children calm down when they are feeling anxious or upset. Nannies can ask children to take deep breaths and focus on their breaths, keeping their attention on the rise and fall of their chest.
2. Guided meditation: Guided meditation can help children focus and find inner peace. Nannies can use apps or videos to guide children through a meditation session, discussing the sensations they feel, their feelings, and how they want to move forward.
3. Yoga: Yoga is another great way to help children relax and unwind. Nannies can teach children simple yoga poses that they can easily perform. The practice of yoga can help them feel focused and calm.
4. Coloring: Coloring can be a peaceful and calming activity that can help children focus their minds on something less stressful. Nannies can encourage children to color with mindfulness, focusing on the colors, shapes and lines they are creating.
5. Mindful listening: Encouraging children to listen to calm music or the peaceful sounds of nature can help them feel relaxed and focused. Nannies can encourage children to sit still and quietly while listening to the sounds, encouraging them to try to identify the different sounds they hear.
In conclusion, nannies can use mindful activities to calm children down and teach them techniques they can use to regulate their emotions when they are feeling overwhelmed. These activities can improve children's mental well-being, their focus, and increase their ability to cope with stress. As a proud nanny, I find it gratifying to help children discover their own calm and peaceful moments during the day.
#nannylife #nanny #bynanny #nannydiaries #nannylove #nannying #thenanny #lifeofananny #supernanny #nannysgirl #nannyagency #nannies #nannys #nannyproblems #nannymcphee #proudnanny #nannygram #nannytime #bestnannyever #nannydays #nannyadventures #nannybaby #mynanny #nannyshouse #nannysbaby #seragamnanny #nannyjob #nannyuniform #nannyprobs #bestnanny #thenannylife #thenannylove #nannypuertorico #nannynj #nannynyc #nannyfl.